In my annual State of the City address this spring, I spent a good portion of my speech talking about how a more functional, balanced Edmonton Metro Region is vital to ensuring our shared prosperity.
On this theme, our City Council recently evaluated a report by an independent panel commissioned by nine of the region's mayors (aka the Metro Mayors) who called on our municipalities to act together in building regional systems. The bottom line of the report? Unless we find a way to collaborate better, our social, economic and environmental sustainability will be in serious jeopardy. To avoid this fate, the panel makes a number of very important recommendations.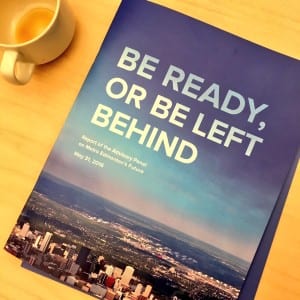 First, create a new regional economic development body that builds on our strengths and takes a strategic approach to attracting new investment to Metro Edmonton. I've spoken about this many times, but it is vital that we "hunt as a pack" and ensure we are telling one story about our region's competitive advantages — rather than several disconnected ones.
Secondly, establish a new entity to help with planning, decision-making and delivering public transit across the Edmonton Metro Region. This would improve transit service for residents, allow us to better lever dollars from other orders of government and save money through our shared purchasing power. It would also improve the flow of goods and services around our region (and lift its productivity) by taking congestion off our roads.
Lastly, the report urges Edmonton Metro Region partners to create a structure "with the capacity and authority to facilitate and act upon regional land use planning and regional infrastructure development." This means a coordinated approach to density in our new communities, but it also might mean sharing the costs of large-scale infrastructure like interchanges that have significant regional benefit. We have a massive amount of work to do in the coming decades to connect our infrastructure but we simply don't have the hundreds of millions of dollars to do this work alone. The solutions in this report, including the creation of a regional fund, could help narrow our funding gap and spread the costs of this connective infrastructure amongst our regional partners.
You could sum up the main theme of this report as "shared investment, shared benefit." This work isn't about Edmonton taking more than it needs. It's about a better balance of responsibility for how we manage, pay for and benefit from growth. In the end, this will shelter Edmonton taxpayers — both residential and business — who end up shouldering a disproportionate share of the costs without enjoying many of the benefits of growth. Taking action on this report will also ensure Edmonton remains a sustainable hub for the region, providing many of the core services that our regional neighbours have come to rely on.
At Tuesday's meeting, Edmonton City Council agreed to pursue an MOU with our surrounding municipalities to begin solidifying our commitment to building a globally competitive Edmonton Metro Region via the cornerstones of economic development, public transit and land use and infrastructure.
Our window to act is now. In combination with the changes proposed to the Municipal Government Act, there is an opportunity here to make real change in how our region functions. But it will take the courage of our "metro mayors" to act, and act quickly.