Sarah and I were at the store picking up some things for the newborn, and I wandered over to the Lego section to see what the latest ridiculous theme lines were (something went wrong between Castle Lego and Star Wars Lego, in my view). It just so happens that they have released a line that feels like what I grew up with in the '80s: the City series.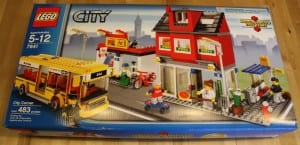 Although he won't be old enough to play with it for a few years (he's two weeks old today) I bought Dexter the 'City Corner' set, which just so happens to be a superb example of sound urban design.
Notice first the mixed use development, where people can live and work in the same spot, in this case there is residential use above the pizzeria. Almost every truly vibrant place has a mix of land uses, as opposed to segregated uses where people live in one district, work in another, and shop in yet another, etc.
Second, it's an active street, featuring the following:
Sidewalks: you would think these go without saying, but think of the streets you know without sidewalks, and I guarantee you're thinking of a place you wouldn't want to walk. Notice that it's cycle friendly as well.
Effective transit: I'm assuming because Lego is European that the transit is frequent and reliable, which makes this spot an appealing point of origin for people who live here, and an easy-to-access destination for visitors.  (I added the pantograph to the bus, figuring that if it's European it also ought to be electric.)
Defined edge: a line of buildings built to the sidewalk, which join to form a street wall which defines the space. (I'll need to dig out some of my classic Lego to add some more buildings to really bear this out, which I probably won't have time to do until Dexter is talking.)
Active building frontages: the businesses themselves contributes to a positive pedestrian environment; however, the presence of commercial activity is not sufficient in and of itself. To make it work, the frontage must be permeable (the businesses are inviting and accessible from the street) and fine-grained (in that the individual business frontages are not too wide, therefore offering many options to strollers and contributing a sense of rhythm to the street).
Crime Prevention Through Environmental Design (CPTED, or 'sep-ted' as we say): part of the benefit of having activity at all hours, which comes more easily with mixed use, is having 'eyes on the street' which helps deter crime. Notice also the lighting on the buildings, which eliminates dark corners. For bonus points, the lighting is all downward casting, which reduces light pollution (which is light waste when you think about it) and is generally more energy efficient.
The only missing things I can think of are: secure bike parking, renewable micro power generation, public art, and a bit of green space. All in all, still a surprising example of a "place worth caring about" in the words of urbanist James Howard Kunstler.