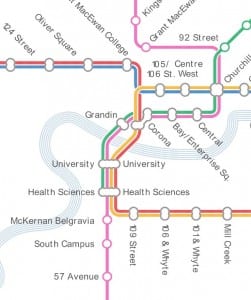 In answering questions from Councillors during last week's LRT routing debate, Transportation Department officials showed us a conceptual map of the full potential build out of our region's LRT network to illustrate some points about connectivity.
It caught all of us by surprise — pleasantly so. I called it the 'Hope Springs Eternal' map. I also asked for a copy to share as it's now in the public realm. Enjoy.
A couple of important qualifiers: this was for modeling purposes only, and does not presuppose Council's ultimate decisions about alignments currently under debate (SE and W) or future projects (NW and E).
This map (prepared by our consultants Steer Davies Gleave) has roots in earlier decisions Council gave with respect to the overall LRT Network Plan as well as the 'Urban Style' system commitment of more frequent stops and low-floor technology. I wrote about these decisions previously here.
The issue at this level is not whether a given line or station go here or there, but how eager are we to bring a vision of this ambition to life? It's certainly not up to the city alone — projects like this require the alignment of at least two and, properly, three orders of government. It will require the relentless pressure of citizens on Councillors, but more particularly on MLAs and MPs.
I'm game.
Here's a thumbnail [updated Nov. 30 to correct some typos]; click on it to view at full size: