Happy new year. While these are interesting and challenging economic times, they present an opportunity to develop business ties and keep our eyes on the long term. I have just returned from an eight-day mission to China and Hong Kong, where I helped to mark our city's first waste-management project abroad, promoted air links to Edmonton and reinforced our region's healthy economic fundamentals.
We made the most of our 36 hours in Harbin, Edmonton's Chinese sister city of 30 years. While I was a guest at the 2016 Harbin Cold Zone Exhibition opening ceremonies at one end of downtown Harbin, our delegation members met with their counterparts at the Environment Bureau and Urban Management Bureau as well as the Civil Aviation Administration of China.
With both our regions' airports declared as economic development zones with an emphasis on free trade and streamlined customs clearances for cargo, Edmonton and Harbin airport personnel agreed to further discuss pursuing air links as well as expanded airport businesses. Last fall's Shanghai-Edmonton-Dallas Air China Cargo service introduction is a strong foundation for us to build on and, while both sides' economic slowdown may be a short-term challenge, this is the furthest yet we have moved on connecting our cities.
Supported by a strong central government emphasis on improving China's air quality and environment, Harbin has committed to taking a look (with a new environment head) at Edmonton's waste-management program by sending a senior-level delegation to Edmonton in the coming months to learn about our process and know-how. There are cleaner alternatives to incineration of residents' waste which is very common in China's larger centres, and, with a national emphasis on improving air quality, Harbin is particularly interested in learning about our new waste-to-energy biofuels plant.
It was good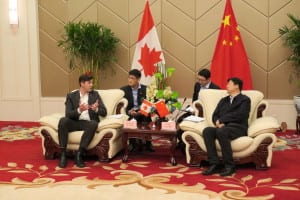 to see Mayor Song Xibin again and his government could not have been more hospitable to our delegation, especially when many of Harbin's sister cities from around the world were visiting at the same time. I had the honour to address the 2016 Harbin Cold Zone Development Forum, where I highlighted Edmonton's winter city initiative, through vivid imagery, and many of the exciting projects that celebrate Edmonton as a winter city. Audience members were most interested in the Edmonton Freezeway!
I was impressed by the scale and ingenuity of the creative expression of winter at the opening of the 32nd Harbin Ice and Snow Festival. Large-scale ice and snow carvings of enchanting castles and monuments, lit creatively, made for an unforgettable memory of one of the world's truly iconic winter festivals. I look forward to welcoming back Mayor Song to Edmonton soon to return his hospitality and friendship.
A quick stop in Beijing meant further opportunities to promote Edmonton's waste-management innovations and air-service opportunities. While I cannot say much more about these meetings yet, continuing to build relationships, reinforce messages and provide updates are very much part of doing business in China.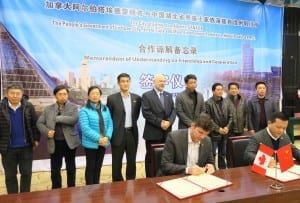 Two flights and a one-hour car ride later, our delegation reached Lichuan, a beautiful 800,000-person city in western Hubei province regarded well as a regional vacation destination for its cool summers, and with burgeoning eco-tourism potential. In partnership with CanFit Resource Recovery Technologies and other Chinese partners, City of Edmonton-owned Waste RE-solutions will develop a facility to process 150 tonnes per day of Lichuan's municipal waste stream into recyclables and fertilizer for agricultural use.
This project is a testament to Lichuan's municipal leaders' vision for, and commitment to, developing environmentally sustainable waste-management solutions. It was an honour for me to sign a cooperation agreement with Lichuan Mayor Zhang Tao, witnessed by his officials.
Part of my weekend was spent visiting BYD, a China-based manufacturer that is currently supplying an electric-powered bus to Edmonton Transit for testing this winter. City administration is keen to understand its full impact, including emissions and the full cost of ownership. In addition, we learned about BYD's other lines of business and identified possible linkages with Edmonton organizations.
Our mission's last day started in Hong Kong with a political and economic briefing from the Canadian Consul General, Ian Burchett, and his team. Hong Kong has close ties with Canada, with 170,000 Canadian university graduates and 300,000 Canadian citizens among its seven-million-strong population. Consul General Burchett outlined opportunities for increased trade links — in particular, food and food technology.
Located in a scenic corner of the territory, the Hong Kong Science and Technology Park is the hub to its vibrant innovation and technical ecosystem. Potential lies for Canadian startups seeking international capital; I had a chance to reference our award-winning TEC Edmonton  which is undertaking its own China visit this week.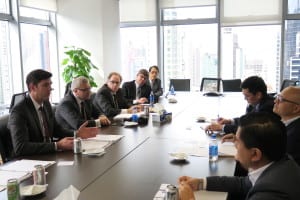 Edmonton Metro Region was very much on my mind during a lunch-hour visit (accompanied by sandwiches) to the Can-China Global Resource Fund. The $1-billion fund, initiated by the Chinese government to invest in Canadian upstream energy projects, is looking for a secure destination. Specifically, I reinforced Alberta's Industrial Heartland — an investment destination that is currently being considered by this investment fund.
An agreement to exchange information between our two sides resulted from a most enjoyable discussion and meeting of the minds with Hong Kong's Undersecretary for the Environment, Christine Loh. While she was keen to learn about our approach to waste management and electric-powered bus testing, we were encouraged by her government's determination (and challenge ahead) to transition to Hong Kong's electric buses.
Many people worked behind the scenes to plan this mission, including City of Edmonton administration officials. In addition, I wish to single out Ron Hoffmann, Alberta's Senior Representative for the Asia-Pacific Basin based in Hong Kong. His personal interest, time, network of contacts and generosity in hospitality is appreciated and valued. (Incidentally, any Alberta organization or business interested in exploring China or Hong Kong as a business opportunity would be well-advised to seek Mr. Hoffmann's counsel.)
I left Asia encouraged and buoyed by not only the business opportunities ahead but also our shared, collective commitment to a cleaner environment and improved air quality. Both sides' administrations will follow up in the coming weeks and months on our fruitful and wide-ranging discussions in Asia and Hong Kong.