In 2016, I opened my State of the City address with a story about a little device called the iTClamp. The iTClamp was invented by Dr. Dennis Filips, a surgeon with the Canadian Forces who had done three tours in Afghanistan. Using his experience in the field, Dr. Filips' device seals the area around a wound by quickly clamping the skin together and preventing further hemorrhaging — just like a suture. This incredible device was invented by an Edmontonian, and his story was one of many that inspired me to initiate a new health industry strategy that positions Edmonton as a leading health innovation city.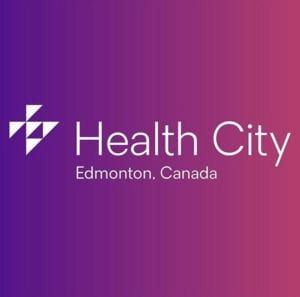 One of the most compelling aspects of Dr. Filips' story, is that his company now runs out of San Antonio, Texas. In 2016, I announced that our Health City initiative would begin to tackle the barriers that prevent companies like Dr. Filips' from scaling up, and growing an eco­system that attracts, retains and supports talent from across Canada and beyond. To find ways of increasing access to capital for local companies and accelerate the commercialization of new technologies and products. And market Edmonton as a health innovation city, the best place to bring new health ideas to life — quickly.
In just one year, we were able to gather over 70 leaders in the public, private and philanthropic sectors to come up with a plan to bring this initiative to life. I'm proud to announce the launch of their strategic plan today. This strategy will take a phased, momentum-building approach to achieve the vision of positioning Edmonton as a world class health innovation city through 5 key goals:
Foster a health innovation ecosystem that provides an unparalleled environment for success for health innovation and industry participants.
Edmonton becomes a destination of choice for health innovators, leaders, entrepreneurs and researchers.
Create a policy environment that accelerates the development and growth of the health innovation continuum, from discovery to commercialization and application.
Accelerate access to finance, capital, and institutional investment whilst removing financial barriers to growth.
Solidify Edmonton's reputation as a leading health innovation ecosystem.
As I mentioned in this year's state of the city address, Health City is about building on our strengths as a city and taking real and meaningful steps to diversify our economy. When it is fully formed, we will have created an organization that can continue to coordinate key parts of the health ecosystem and help companies and investors navigate through what can often be a complicated system, and aggressively pursue business partnerships and new economic development opportunities within the health innovation sector. Of course, a big part of its role will also be to tell Edmonton's story to the world and the incredible network of assets and opportunities we already have.
Our progress on Health City has already been noticed by industry stakeholders, on a local, national, and international level and recent announcements are further proof we're on the right track. I encourage you to read this full strategy (which outlines the who/what/where/when/why in much further detail then I can in this blog) here.
I would like to thank all of those who have lent their time, perspective and passion to Health City thus far. Without your commitment, we would not be where we are today – and we would not have a path forward.
In 2016 I said that this strategy would help transform lives and drive real, sustainable economic growth for our city. I truly believe that we are at a tipping point: the conditions are right, the right players are at the table and there is the will to make something uniquely Edmonton.