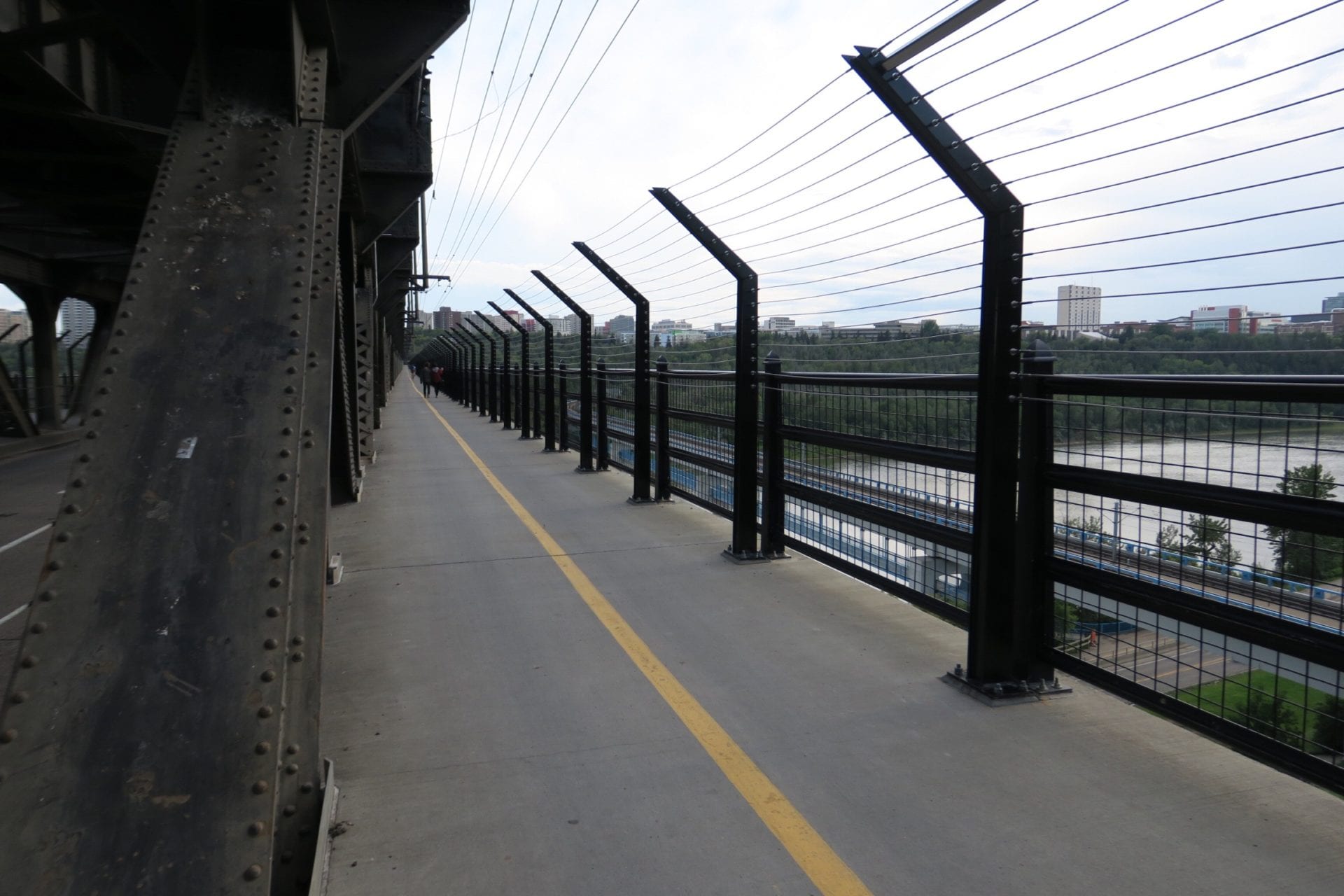 The High Level Bridge was a tough issue this past week, one I've spent a fair bit of time talking over about with colleagues and friends and reflecting on.
It flared up Monday on the CBC Call in show when, in answering a question about it, I allowed my frustration to boil over and said I was 'Tired of being lectured' about the valid concerns people have about the impact of the new suicide barriers. That was not a helpful comment and I apologize for saying it. What I should have done was to ask for compassion for the emotionally difficult position Council has been in with respect to the barriers, and to ask for patience as we examine options to mitigate the conditions we've created.
Council, after having determined that the bridge was a potential 'suicide hotspot', had felt motivated to act quickly. This whole issue has been difficult for me as I know three people who've taken their own lives on the bridge. It's been challenging for many decision makers and citizens alike for similar reasons. I didn't intend to make it an either/or discussion, but I accept responsibility for the fact that my comments unhelpfully polarized the issue this week.
I also rode the bridge several times over the past week and had to use the narrower east side, because of the work on the west side, and it is more constrained than ever on the east. The east side was never great, which is why I preferred the west, and now it's worse. Making it worse clearly wasn't Council's intent when we approved the installation of the barriers. And yet I see and share the frustration in the result.
On reflection, this is an example of what can go wrong when the City is in a hurry, which is something for us to continue to watch for. Further opportunities for consultation with affected users might have identified this issue earlier in the process and allowed for a change; something else to take away from this. Though we also received pressure for not acting even faster on the barriers, which just goes to show the difficulty Council faced on this file.
I'm not sure what to do about the bridge itself yet, but talking about the possibility of requiring dismount on the east side was not well received. I believe my comments were taken somewhat out of context so I want to emphasize here again that the situation is being monitored, and no decision is pending on requiring dismount. To stream bike traffic all to the west side would have other consequences and could well require reconfiguration of intersections at either end to make it more feasible. Whatever the next steps are we'll make sure to engage and hear from users.
There have also been some creative suggestions, like using the top deck of the bridge to accommodate more users. I love the idea of a New York High-Line kind of experience up top, and there seems to be enough interest to warrant looking into what would be involved. To be realistic, however, there are many complexities: the province maintains first right of refusal to use it for high speed rail; the City might need it in the long term for the 'central area circulator' low-floor LRT link between Bonnie Doon and Downtown via Strathcona as identified in the long-term LRT Network Plan; and of course the Edmonton Radial Railway Society operates the highest streetcar crossing in the world (which if you've never experienced you should) which I would also think we all would want to continue to accomodate. And then there's the issue of ensuring a person in crisis cannot easily jump from the new top deck. So that's not to say it can't be done, only to say it's complex. But I appreciate the creative and constructive suggestions.
Part of the backdrop to this whole issue is that Council's recently been getting a lot of negative feedback from cyclists, and not just about the bridge. That's been frustrating for me in no small part because I agree with many of you who say we're way behind other cities (including Calgary!) when it comes to improving conditions for cyclists and pedestrians on our streets. But it felt like our Council turned a corner with Councillor McKeen's motion on Tuesday to work with Stantec on a pilot separated bike lane grid for downtown. I tacked on consideration for it to include the University and Strathcona area. The reports on this will come back in September and hopefully we can move swiftly (but reasonably and with appropriate public input) on this.
It feels like we're moving again, with a commitment to build better bike lanes – which was the challenge I put to Council last year when the previous bike lanes were being removed. And I'll work to keep an open mind about ways to deal with the issues on the bridge. I'm with you.