Policy in Brief
Edmonton is an unusually good place to launch a new artistic idea. Our theatre, music, and visual arts scenes have a uniquely experimental, entrepreneurial energy. But living here, as an artist, has to be affordable. In the next four years, we can work harder to help artists and arts organizations find live/work, rehearsal, and performance space. We can create more opportunities for our arts and businesses communities to mix and share ideas. We can work harder to support aboriginal artists and arts organizations.
What we'll do in the short term
The mayor and council need to recommit to The Art of Living plan and begin discussions to change our zoning bylaw to make it easier to create new performance and studio space. The mayor must be prepared to use to the influence of his or her office to find new ways to connect our business and arts communities, and to start a comprehensive discussion about how we support aboriginal art in our city.
Where we need to be a generation from now
Edmonton should be known as the best city on the continent for artists of any medium or background to launch a new idea. Art in Edmonton should be integral to everything the city does.
More thoughts from Don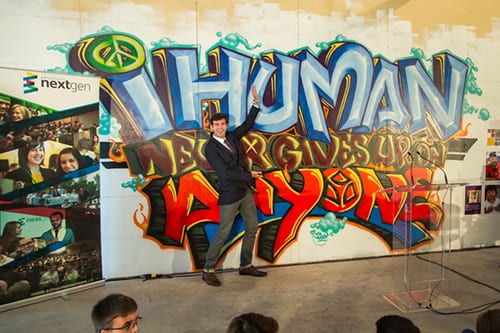 In 2008, the Edmonton Arts Council released a ten-year cultural plan to secure something we have long known about this city: it is a cultural lab. Some of this country's and this continent's finest events, ideas, and artists have roots in Edmonton.
We're halfway through the mandate of the plan, and we've accomplished a lot. It's important for the next mayor to recommit to it. If we keep moving forward with the recommendations in the plan, Edmonton could rise to be the best city in Canada to be an artist. Our key festivals are stronger than ever, but we can do more than that.
One of the most pressing problems for artists in Edmonton is space: work space, rehearsal space, and performance space. The 2008 plan, The Art of Living, called for redrawing certain zoning bylaws to allow unused spaces to be transformed. The City can contribute only a limited amount of City-owned space, so the real work is in brokering creative solutions to make it easier for private owners to turn their empty properties into viable arts space.
Think back to 1982, when a neighbourhood full of unused spaces filled up for a few days in August for something we called a Fringe Theatre festival. Not only did it spark a theatrical explosion in Edmonton — today we have more theatres per capita than anywhere else on the continent — it also sparked a renaissance in Old Strathcona.
We're seeing that same energy on Alberta Avenue today, and we can apply it in other neighbourhoods, including Jasper Place and The Quarters.
It's often small things, like recognition, that can continue to drive the arts. I have long been a patron of the arts in my city and I will continue to be an enthusiastic supporter. We are what we make: One of the recommendations of The Art of Living, that official city gifts should be made by Edmontonians, is one of the easiest to implement.
As a municipality, Edmonton supports the arts directly with the Edmonton Arts Council. The EAC does an excellent job of building our arts community and contributing to the richness of our city. But I believe the City, and specifically the mayor, can do more to connect the city's artists with our business community. We need more patrons. Edmonton has a number of extraordinarily generous philanthropists supporting the arts — think of the Westbury Theatre or the Winspear Centre. Without the noble gifts from these individuals, we wouldn't have some of our marquee spaces and programs. Similarly, I'd like to see more businesses support our small-scale artists. That support need not always be in the form of significant grants and gifts (although, to keep artists working, monetary support would certainly help).
As mayor, I will continue working to bring our business and arts communities together, not only for patronage but to share ideas and grow together. One of the great powers of the mayor's chair is the ability to convene people — a capacity I would use to full effect to benefit our city's artists. Artistic thinking can help business, and business thinking can help artists. In Edmonton, artists and businesspeople are inspired by similar ambitions. They're all entrepreneurs.
Finally, Edmonton will soon have the largest First Nations population in Canada. This is and will be a cultural asset for our city. We need to support and create more activity for artists and cultural entrepreneurs in our aboriginal community, and we need to share what they create. However, our approach must be derived from a thorough and considered discussion with our aboriginal community, drawing from their significant wisdom and insight.