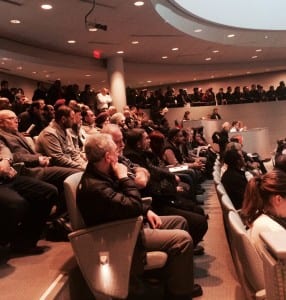 Following nearly six hours of discussion last night, and after hearing from 30+ speakers, City Council's Executive Committee passed the following set of motions:
1. That Administration work with the Transportation Network Companies* to provide a report, before the end of the third quarter, to include a draft bylaw that would establish public safety rules and regulations for the operation of Transportation Network Companies.
2. That, in parallel with the work in Part 1, Administration work with the Taxi Industry to provide a report, before the end of the third quarter, with a draft bylaw to amend the Vehicle for Hire Bylaw 14700 to provide for improved taxi service standards, and with recommendations for issuance of additional taxi plates.
3. That, in the meantime, Administration request that UBER temporarily suspend operation in the Edmonton market and if they refuse, Administration take all steps necessary to apply for an injunction against UBER to prevent unlawful operation in Edmonton until such time as UBER complies with the applicable City of Edmonton bylaws.
4. That Administration work with the taxi brokers to obtain data from dispatch systems on number of taxis dispatched at given times, wait times for taxis, and other information relevant to allow for determination of appropriate customer service standards and expectations.
* 'Transportation Network Companies' (TNCs) is industry-speak for companies like Uber, Lyft, Sidecar etc.
There is no question that the taxi industry is an industry in need of significant reform. We've heard it from passengers, we've heard it from Uber-lovers and we've even heard it from taxi drivers themselves. Yesterday's motions open the door to exploring new options for how we deliver vehicle-for-hire service in Edmonton.
We want to be more data-driven on the Taxi side, both to understand how effectively customers are being served and how much supply we're short during high-demand periods. This would give us some data to support creating more supply (by adding more taxis) or to consider regulating a space for TNCs to take up some or all of that additional demand. In other words: before next winter, we could work with TNCs like Uber to facilitate lawful operation, or we could add more taxi plates, or a mix of both.
No matter what, changes to support better service will be the outcome.
I have been accused/championed as a nerd in the past, partially because of my love for technology and all the day-to-day benefits it can provide. In principle, Uber is a wonderful concept. But as a Council, we can't simply ignore the fact that Uber exposes both driver and passengers to unnecessary risk, operating as they do outside the law. Comments from Heather Mack from the Insurance Bureau of Canada resonated with Council: Uber drivers risk voiding their own insurance policies by operating as a commercial vehicle. This is a huge risk not only to them and to passengers, but to others on the roadways. That risk was a compelling concern for Council and TNCs need to be able to demonstrate adequate insurance to be lawful.
Last night's motions give reasonable time to sort through some of these complex questions. In the meantime, we're asking Uber to suspend operations in our City and work with us to find a legal solution for Council to consider this fall. It's our duty to make sure our rules — as they are written today — are respected; we'd ask the same of any business operating in Edmonton. Anything else would be a double standard, and we should all expect our government to be consistent and fair.
Thank you to everyone who emailed my office, tweeted me or sat through a very long Executive Committee meeting to discuss this important policy question for our City.