For the past few weeks I've been asking people "what keeps you in Edmonton?" Most people chose to come here or chose to stay — understanding why is key to effective city building.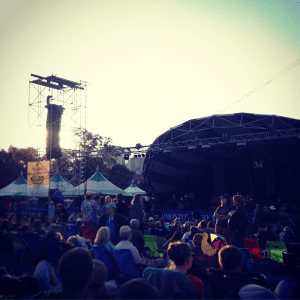 Their answers vary, but they usually reflect our love for homegrown arts and culture. Whether people are enjoying Shakespeare in the Park, the Verdi Festival, International Film Festival, a smaller local artist showcase, or one of the other nearly limitless opportunities – our outstanding arts and culture scene is a frequent reason why people stay in Edmonton.
The rich diversity of culture on offer is a fine gift to our city; it is the product of people of all ages and interests building extraordinary things together. Each work of art, each show, each festival began as a vision, and a desire to share it.
Our festivals in particular are a fine expressions of our citizens' creativity, meshed with an entrepreneurial spirit to build and grow things that surprise and delight Edmontonians and visitors alike.
For example, when one attends Folk Festival, as we have for many years, it's easy to see that people are at the heart of this energized and welcoming event. People make Edmonton a city to choose: by creating; by volunteering; by building. From the entrepreneurs serving food, to the volunteers collecting recycling and compostable organics, ours is a complete ecosystem supporting creative expression and industry.
Edmonton's reputation is growing worldwide as a place to flock for all types of artists. And both our culture and our economy are better off for it. Citizens can sense the swelling support around each unique event, and can't wait for more.
If our community can tell this story better, this competitive advantage we enjoy can be a reason why more people chose to come and be part of building Edmonton.
I'm proud that one of Edmonton's monikers is "Festival City." We've all earned it, together. It wasn't one person, or one group, alone who built NextFest, the Works, Kaleido, the Jazz Festival, Ice on Whyte, Folk Fest, Interstellar Rodeo, or the venerable Fringe (all great Make Something Edmonton stories, by the way). Governments may support these initiatives, but the ideas came from individuals, and they succeed because Edmontonians took initiative to build Edmonton, one creative impulse at a time.