Edmonton is the youngest major city in Canada with a highly educated workforce. That's a huge competitive advantage for our city, and this demographic wave is changing how we think about, plan and build our city. The truth is, young Edmontonians can choose to work in almost any city in the world – and if we don't start building our city for the next generation, more will decide to move elsewhere, and fewer talented people will chose Edmonton. As our city grows, it's vital we provide people with a suite of transportation options which includes good road infrastructure, efficient public transit, safer, more enjoyable pedestrian experiences and – yes – great bike lanes.
In 2013, our work to increase cycling opportunities stalled as the city went back to the drawing board to re-examine where we were putting bike lanes and how we could make them safer. I agreed with Council that our efforts needed to be focused on first establishing high quality cycling routes that connected our core neighbourhoods like downtown, Oliver, Strathcona, and our post-secondary institutions. This is where demand is already the highest, but it's also where the potential is highest to attract new riders. And so, I was pleased to see Council unanimously approve construction of a network of downtown bike lanes last fall.
And here we are, celebrating the opening of these lanes – slightly ahead of schedule and modestly under budget. Since the downtown lanes opened, our statistics show that the number of people riding into the core has quadrupled. Clearly, there is a demand for a safe cycling network judging by these usage numbers and by the number of people (themselves taxpayers, I might add) that showed up to ride in Saturday's grand opening.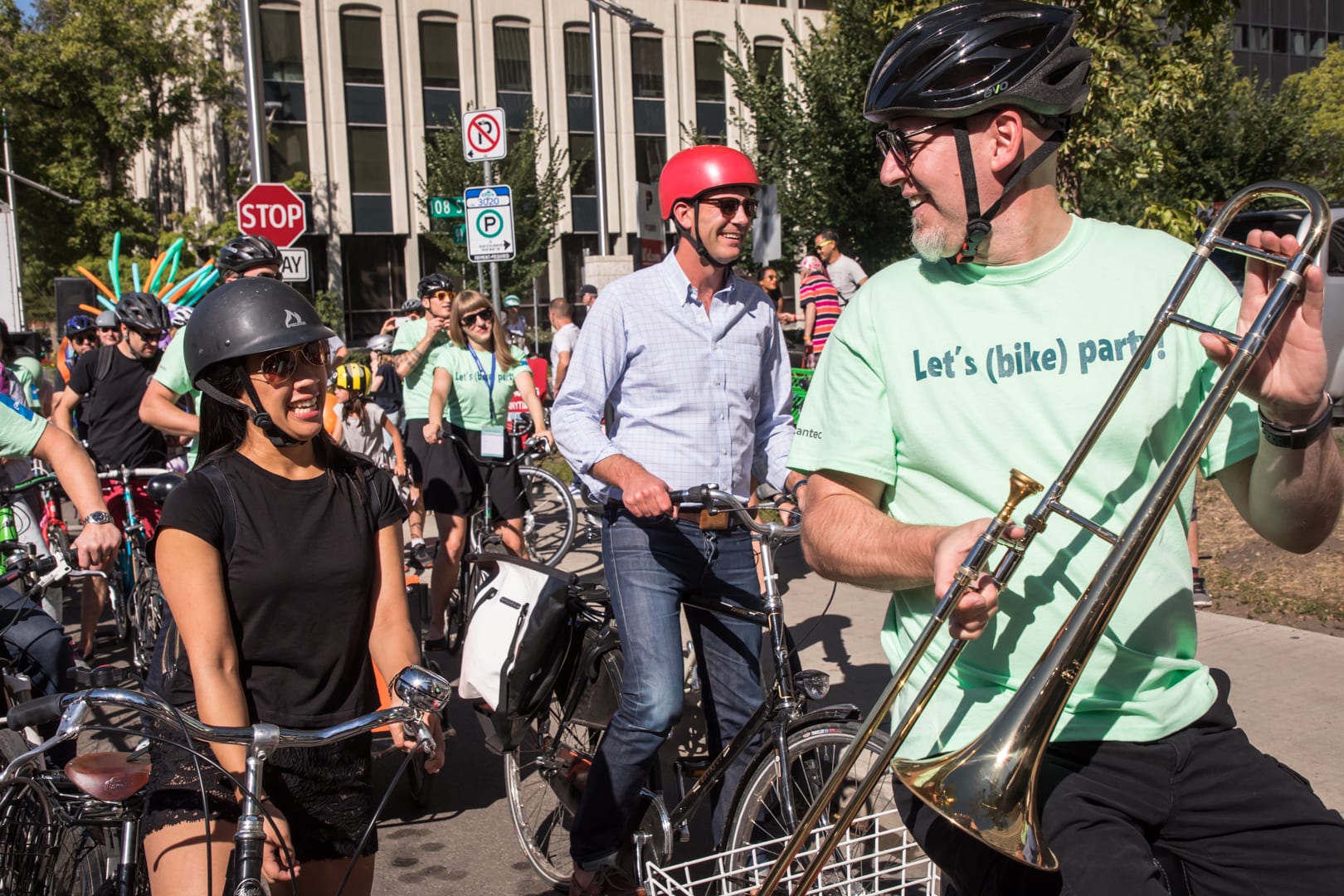 As we grow, we need to build Edmonton with a big city outlook. The way we think about growing and moving, how we are working and living and the ways in which we're responding to social, environmental and economic changes are shifting. As our city grows, transportation options must also evolve. We're on the right track with LRT, our transit system improvements are ongoing and our active transportation options – including bike lanes – must also expand as well.

As our city grows, like any major city, traffic congestion will only get worse. The same question I asked in my recent LRT blog also applies here: what are the right strategies to get ahead of this coming congestion? New transportation choices reduce the pressure on our roads and lead to a healthier city and cleaner air. As Mayor and Council, we need to keep this big picture in mind as we make these transitions.