To date, Edmonton has never seen a residential building of the scale that City Council approved at its Public Hearing on Monday night. At 45 storeys, the Emerald will be four times higher and double the density than the current zoning allows. When it's all said and done, it will add 500+ people to the Oliver neighbourhood. If you take those two facts in isolation – a taller building and more people downtown – this should have been slam dunk decision for me.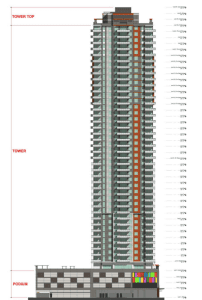 Only it wasn't.
When we consider buildings of this scale, I believe our standards must rise accordingly. Through a decision like this, where council is asked to grant a doubling of development potential through upzoning, we ought to expect outstanding design. Council has approved several large towers over the past few years – including the stunning Pearl, by the same developer – that evolve our city's skyline and bring new people to the core of our city. However, in my entirely subjective view, the configuration of the Emerald's podium and the sculpting of its tower are not up to the same standard as many other recent tower approvals.
While I can appreciate the need to contain costs with the aim of (hopefully) providing more market-affordable units, the above-grade parking in this project did not sit well with me. Commercial or residential activity in front of the parking, as we see in towers along 104 Street for example, would be more appropriate along one of our main streets. This message of 'function over form' that Council's decision sends to other landowners could have undesirable consequences, but time will tell on that question.
Council also struggled with the contributions the developer will be making to affordable housing. Encouragingly, this was a strong point of concern for the Community League, which took the rare position of advocating for substantially more affordable housing. Under Council's existing policy, the City has the option to purchase 5% of the units in the building at 85% of the market rate. Again, this is the same ask we make of any site-specific Direct Control rezoning, no matter how much new development opportunity is created. Here, Council is granting a doubling of that potential, which is quite out of the ordinary, so one contribution to the public benefit could have been additional affordable housing contributions, beyond the '5/85,' just as we've seen with other exceptional rezonings like the Mezzo. These are the kinds of trade-offs that should be astutely negotiated when the City is being asked to grant tens of millions of dollars in new development opportunity.
In the end, my vote was not against height and density in our core but against settling for second-best. I'd happily support 50 stories in the right location, with the right design, and appropriate community benefits. But all of this would need to add up to an A+ building.
This proposal started as a B two weeks ago, and got to a B+ with some minor changes I pushed for. But I expect straight A's at this height and when this magnitude of new development rights is being requested of Council.